Dr Ilona Izdebska, Specjalista Medycyny  Rodzinnej, Lekarz Chorób Płuc, Przyjmuje tez zapisy na karte medyczna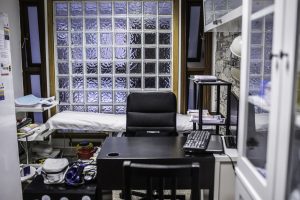 Dr Ilona Izdebska jest absolwentką  Wydziału Lekarskiego Akademii Medycznej we Wrocławiu, który ukończyła w 1988 roku. Posiada rejestrację  specjalistyczną w Irlandii jako Lekarz Rodzinny (GP) od 2009 roku,  a  także jest lekarzem chorób płuc. Jest czlonkiem the Irish College of General Practitioners/MICGP/ . Uzyskala tytul Specjalisty Medycyny Rodzinnej pod kierunkiem prof. dr hab. Andrzeja Steciwki kierownika Katedry i Zakladu Medycyny Rodzinnej we Wroclawiu.
Wieloletni staż pracy w praktyce Lekarza Rodzinnego, w oddziałach szpitalnych: Akademickiego Szpitala Klinicznego we Wrocławiu,  Oddziale Pulmonologiczno-Alergologicznym Wojewódzkiego Szpitala Chorób Płuc i Gruźlicy w Opolu – uczynił Ją lekarzem kompetentnym i godnym zaufania.
Jej atuty to sumiennosc, uczciwosc , wysoko zaznaczona troska o pacjenta. Posiada łatwość nawiązywania kontaktow, co stanowi dla Niej ważny aspekt i daje wiele satysfakcji, kocha wszystkie Dzieci.
Zakres uslug medycznych:
-Diagnostyka i leczenie chorob wieku dzieciecego oraz szczepienia ochronne-szczepienia  do uodpornienia pzeciwko    zakazeniom wywolanym przez rotawirus;
-Choroby ukladu krazenia, badanie EKG,
-Choroby ukladu oddechowego, spirometria;
-Choroby przewodu pokarmowego i ukladu  krwiotworczego-badania krwi, wymazy;
-choroby skory, choroby alergiczne.
-choroby ukladu kostno-stawowego.
-choroby ukladu nerwowego i choroby psychiczne.
—————————————————————————————————————————————————-
Dr Ilona Izdebska General Practitioner, Specialist in Family Medicine, Respiratory Physician.
Dr Ilona Izdebska graduated from the faculty of medicine of the University of Medicine in Wroclaw, Poland in 1988.She is registered as a specialist of  Family Medicine/GP/ in Ireland since 2009 and She is a doctor of Lung Diseases.She is also Member of the Irish College of General Practitioners/MICGP/.
She have had a long practice as a Family Doctor and in following hospital wards: University Hospital of Wroclaw, Poland, Hospital of  Tuberculosis and Lung Diseases in Opole, Poland.
The above mentioned practice has given her a good experience and caused that She is competent and reliable doctor.
Her strong sides are: scrupulosity, consistency, good organisation of work, accuracy, responsibility, reliability, honesty and good care of patient. She comes into contact with people easily and this is her main social attribute which gives her much satisfaction. She loves all children.
The range of medical service she offer:
-Diagnosis and treatment of  children`s diseases and protective vaccination-inclusive Rotavirus vaccination.
-Disease of blood circulation system-ECG examination.
-Respiratory system diseases-inclusive bronchitis, pneumonia and influenza, bronchial asthma, COPD -Spirometry.
-Diseases of digestive system and haematopoietic system-Blood tests, swabs.
-Skin diseases and allergic diseases.
-Diseases of bone-joint system and rheumatoid joint inflammation.
-Diseases of nervous system and mental illness.